Amna Razi's Green Team Keeps South Environmentally Friendly
Hang on for a minute...we're trying to find some more stories you might like.
I sat down with Amna Razi, founder of South's environmentally conscious "Green Team," who is making an effort to make WWS a more eco-friendly place for all.
What inspired you to create the Green Team and what's the story of how it was founded?
I had to write an argumentative essay in my Senior Rhet class with Dr. Lawrence. Initially, it was about doing a better job at recycling in our school, but me and Dr. Lawrence wanted to go big, so we came up with this incredible idea of having an 'Orange Goes Green' month and a Green Team. Both of us were really passionate about doing something to make our school a better place, not only for the students and staff, but for the environment as well.
What does the Green Team do, and why is it important for our school?
The Green Team basically monitors after school each and every hallway to check if there's any water leaks, any extra lights on, the windows open, the recycling bin being properly used and many other small things that contribute to either damaging the environment further or making it safe and sustainable.
It's important for our school because it's a group of people who willing volunteer their time to go look for ways to improve our school environmentally. Many schools have already embraced the 'going green' idea, and being a proud tiger nation, we always join hands with those who do good for our community.
How did the Green Team go last year? What was really successful?
The Green Team just started in the beginning of May, so there wasn't any time for this seed to blossom into the tree we hope it does soon. We had six active members who checked every hallway and classroom for any faults. We found a leakage in a water fountain and had Dr. Lawrence immediately put in a work order for that. We also found some broken blinds, and some classrooms and offices without recycling bins.
What were your original goals for the team, and have they changed over time?
We had originally planned on having an Orange Goes Green month in April, but because of the limited time we had, it wasn't possible. I didn't have much time, as I was a senior back then, so we thought of starting with something small: a Green Team. The goal is still the same, making our school more environmentally safe, friendly and efficient.
What was your favorite part about being on the team?
I loved going for the hallway checks with the team. It never was "let's skip this hallway and go home." No, we enjoyed doing that, and it sort of felt like we were some sort of heroes on a mission.  
Are you hoping the Green Team collaborates with any other extracurricular activities?
Definitely Verterra (the environmental club) and then getting an approval from the student council of having an Orange Goes Green week/month where we would we able to raise awareness on how to improve our lifestyles into more environmentally friendly, doing clothes, electronics and book drives, selling non disposable plastic bottles, recycling paper / going paperless and mainly making everyone realize how important and fragile our Earth is at the moment. We need to step up our game to look for ways for a better future and to avoid activities that put it in a danger.
Anything else you'd like to say?
I hope the Green Team would get more members and would be able to do more bigger things in the future. I hope we are able to do an Orange Goes Green week this year, and I want other people to also experience the joy one gets from doing something for a greater good and knowing that they're returning a bit of their debt back to the Earth. I want to thank Dr. Lawrence for supporting me with everything and making me realize what I want to do with my life, which is being an environmental science major. Also, thank you to Mr. Novakowski, Mr. Colin Wilkie and Ms. Davis for giving me their time and great ideas. Thanks to all the Green Team members for their efforts.
About the Writer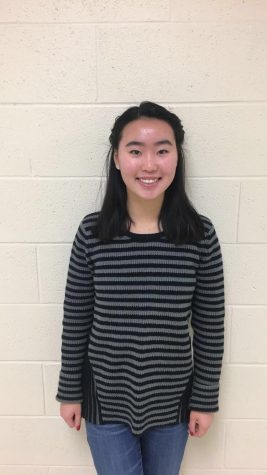 Audrey DiMarco, Co-Editor-in-Chief
Audrey DiMarco is a junior and third year writer for The Pride. She loves animals and is a leader of the environmental club, Verterra. As well as volunteering...