The Danger of Door Handles: How Simply Clean Can Stop It
The common cold can last on a door handle for up to a week. E. coli can last for up to a month. One dirty door handle can spread bacteria to 40% of the objects in a small office within just six hours, which in turn hurts business. Every day that an employee is sick, the average cost to the company is $280. However, businesses are not the only victims to dirty door handles. Bacteria hits pretty close to home. The following picture is a petri dish depicting the amount of bacteria found on the door handle of Wheaton Warrenville South's main entrance.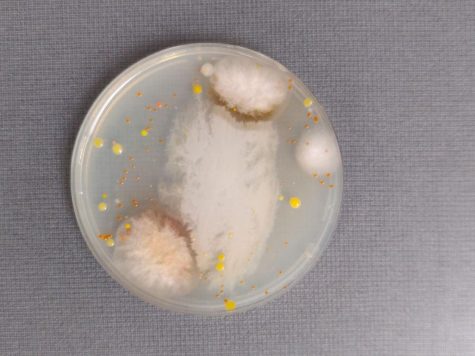 WWS entrepreneurial seniors Jack Cooper, Sulayman Pandit, Gray Pauli and Carson Grebe make up Simply Clean, a company dedicated to sanitizing the surface of door handles to decrease the likelihood of germ and disease transmission in the workplace.
Simply Clean was born in WWS' Business Incubator class, a course meant for students to create unique projects and pitch them to local business owners and other adults who work in the business field, as well as to judges at pitch competitions. Simply Clean actually began as an idea for a UV attachment on hand dryers that would minimize the amount germs blown onto hands. However, this product proved far too difficult to bring to life due to the sheer number of hand dryers out there, so they decided to pitch a UV door handle attachment instead.
While this product was more realistic and marketable, Simply Clean still faced difficulties in the building process. For example, in an attempt to keep the product low maintenance, Simply Clean designed the attachment to be battery powered, but then there is only a limited source of power to kill bacteria with. According to Pandit, they are not out of the woods yet. "We still are facing challenges in the building process", says Pandit. "There are tons of steps you need to complete to get the point where you can sell the product to a business without any legal issues. We hope to increase the battery life and get a patent to make it easier to sell."
Simply Clean ultimately created a device that consistently sanitizes door handles. They knew that the next step would be to pitch their product at competitions and to local businesses. "I think we've kind of known since the beginning that we didn't just want to take the class, we actually wanted to do something with it," says Cooper. Simply Clean has quite the successful track record in competitions. They participated in the following competitions: COD, Millikin University and CUSD 200, where they won $2,500, $1,000 and $1,400 respectively.
Simply Clean's success in competitions earned them recognition for a product that is nothing less than a pioneer in its field. The UV door handle attachment stands out because there are no other products using UV lights to sanitize door handles after every touch in the market currently. Also, with $5,000 in funding, Simply Clean was able to legitimize their business and take it to the next level. On Sept. 12, 2019, Simply Clean placed its first door handle attachment at Dato Pistorio Financial Group. 
Starting a business in high school is impressive but not always easy. "It is very difficult to pick up the phone and sell a product to local businesses because they almost always hang up," says Pandit. Despite frequent rejection, the members of Simply Clean remain passionate, tenacious and motivated to sell their product. These qualities will lead to success in their future careers.
Cooper plans to pursue a college degree in entrepreneurship and Grebe, Pauli and Pandit will major in business as well. Simply Clean hopes to one day see theIir product on door handles across the country and possibly enhance it too. "We want to incorporate our technology into a door handle so it is one unit that becomes a self-cleaning door handle rather than an attachment," says Cooper. Unfortunately, due to the COVID-19 outbreak, production may be at a standstill. The pandemic has made it difficult to source parts, especially those from China. However, there is a silver lining as Simply Clean believes that their product could become more popular afterward because people are beginning to think of bacteria every time they leave their home.
About the Writer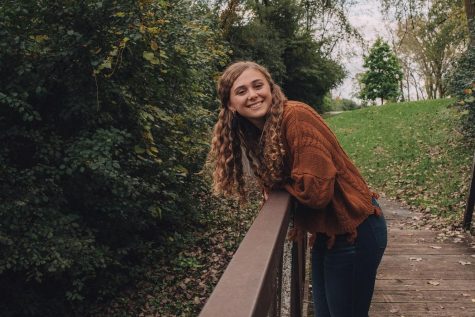 Izzy Fawcett, Staff Writer
Izzy Fawcett is a senior and first year writer for The Pride. She enjoys reporting on sports and writing entertainment review articles. At WWS, she is...