Tiger to Bobcat: Wrestling Through Adversity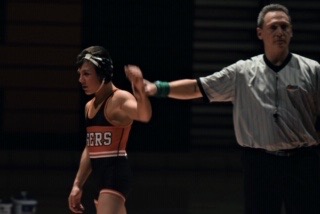 "Come on Aidan!" says Mr. Waszak as his son takes down his third wrestling match of the day. Celebrating with a slight fist pump at most, Aidan's Waszak's initial reaction to victory is shaking the hands of his competition/their coaches. Waszak is a highly talented wrestler that just committed to Ohio University in order to continue his academic and athletic career. As impressive as that is, Waszak remains extremely humble. While wrestling is what he's known for, the dedication, sacrifices, and hard work he has given turns into something much bigger than wrestling when looking at the bigger picture. 
Waszak started wrestling about seven years ago. Right off the bat, he was going to intense wrestling practices 3-4 times a week. When Aidan looked around the gym, he was amazed at the strength/endurance that these kids had. Although he'd been a multi-sport athlete his whole life, he was new to wrestling. 
There were many new mental and physical obstacles to overcome. Now, with many athletes, especially after already mastering one sport like Waszak had with baseball and football, elect to solely stick with what they're comfortable with. This is where Waszak stands out among the others. When he looked around the gym and saw everyone better than him, that was motivation. 
He started showing up to practices wearing multiple pairs of sweatshirts, sweatpants, and even socks so that he could push his body even further. Optional Practice? Waszak will be there. With this elite mindset, he got his delayed wrestling career off to a great start.
Although Waszak has achieved great success in the wrestling world, there were times he was doubtful. Doubtful whether or not this is worth the sacrifices. When asked what his prime source of motivation was to continue wrestling at the level he was at, Waszak responded, "My coaches and my dad. There were times when I didn't understand why I was putting in all of these hours or why I had to miss a party, but they always helped me keep my head. I couldn't appreciate their guidance more, and they helped me to be the man I am today." Wrestling taught Waszak discipline, and he always respects his elders.
Even with those periodic doubts, Waszak believes the pros of continuing to wrestle outweigh the cons by a longshot. When asked what his favorite part about being a wrestler was, Waszak said, "My favorite part about being a wrestler is the fact that I have complete control of what happens every match, being a 1v1 sport. It is a really good challenge mentally and physically." Waszak also finds it a major advantage to use the lessons he has learned from wrestling and apply it to his real life. He feels prepared to keep up in school, maintain a job, and take on many other challenges that life throws at him. 
When he was asked what made him decide to commit to wrestling rather than other sports he was playing, Waszak replied, " When I began wrestling, I still played other sports on the side like football and baseball. Eventually, I was enjoying wrestling much more than the other sports, so I decided to focus on just wrestling going into highschool. I thought I had the most potential in that sport, and I liked all of the hard work that came from it." He was clearly correct in estimating his potential, as he recently signed to wrestle in Division 1 at Ohio University. Speaking on this opportunity, Waszak claims, "It's awesome, it feels amazing to have my hard work and dedication pay off and allow me to compete in the stage that every highschool athlete strives for. The nights out with friends/school events that I missed for practices, meets, college visits, etc. all feels completely worth it now." 
Overall, Waszak's mentality is not something that should go unnoticed. The way he achieved great success in wrestling and got better, worked harder, and became stronger physically and mentally every day, positvely affected the man he is becoming.