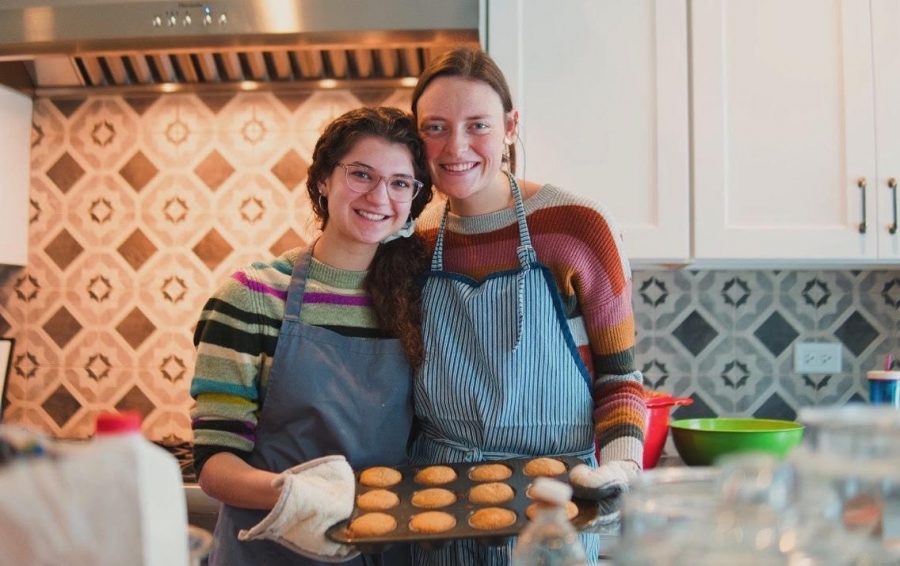 Two of South's seniors baked hundreds of goods to raise money for local charities from Feb. 19 to 21. Kyla Farrell and Ella DePasquale co-created the fundraiser Baking to Give Back.
Farrell and Ella Depasquale, kicked off their bake sale on Saturday, Jan. 23 raising over $1,000 for Feed My Starving Children. Just a few weeks later and their second round of bake sales raised close to another $1,000 for local organization, Puente del Pueblo.
The start of "Baking to Give Back" originally started as a hobby for the two to solve their quarantine boredoms. It wasn't until a volunteer trip to a local Feed My Starving Children location where Ella and Kyla were inspired to make their baking hobby more than just a cure for boredom. After volunteering at FMSC, they became aware of the asking need the organization needed to continue their efforts to defeat world hunger. This was when they told themselves, "We should sell our baked goods and all proceeds should go to FMSC…" 
Anticipating only a couple of orders, the girls were blown away by the amount of people willing to purchase and donate for their cause. In their first round, they received over 70 orders for a variety of muffins they were selling. "We were very overwhelmed, like wow people are actually into this," said Farrell. After spending hours baking in Farrell's kitchen, packing up the goods, and attaching thank you notes on them all, they spent an entire night delivering to their customers last week.
With Ella as social media manager, Kyla as "the numbers girl", and the both of them as the bakers, their plans soon became a reality. Baking to Give Back grew to a few hundred followers in a matter of weeks on Instagram and they soon became stormed with dozens of orders and donations. Ella said, "We definitely underestimated the amount of people that would order…" After finishing baking hundreds of muffins for the first round for FMSC, the amount raised came down to $1,128.
This dynamic baking duo began a second round February 15, baking brownies and cookies for a new organization called "Puente del Pueblo". This organization is partnered with the church Kyla attends, Wheaton Bible Church, and serves families in West Chicago by providing financial support, after-school and summer care, and tutoring for both students and adults.
Farrell and DePasquale spent Friday and Saturday baking snickerdoodle and brownie orders that donors entered into a custom Google Form. On Sunday, anyone who ordered an item was able to pick it up, encased in a brown box and topped with a thank-you letter. For Kyla Farrell, nothing could be more important than""…to make an impact on a community that is right around us." Finishing round two February 21, Baking to Give Back raised a solid $900 to donate to Puente del Pueblo.
Apart from raising over $1,000 across both fundraisers, Farrell said, "We're learning so much about baking. We're not professionals by any means, we're just trying to do our best and support local organizations, but we're like, 'Oh, we're kinda getting the hang of this.'" So much time together in the kitchen has allowed Farrell and DePasquale to become closer friends with each other and with the people who have helped them with everything from publicity to buying ingredients.
Though initially unsure about how involved the community would be, Farrell and DePasquale were pleasantly surprised at the turnout and hope to continue the fundraiser for as long as they can. "It's kind of exciting–we weren't expecting everybody to be so on board with it," said Farrell. "So many people have said 'how can I help?'" 
People have even donated money for baking supplies to further help their cause. "It's been so cool, just to see how people have supported us. It's crazy to see," said Farrell. As of now, all of the costs of baking supplies have been covered, allowing them to increase their profit and donations and continue on.  Their church has also offered to help out by letting the girls use the church's larger kitchen space. 
Baking to Give Back shows no signs of stopping. In fact, inquiries about expanding their workplace from a home kitchen to the Wheaton Bible Church kitchen have been made and are in the process of being permitted. Baking to Give Back looks to have a bright future in the community. Regardless, Kyla Farrell says, ""We are really taking it one round at a time."
Baking to Give Back has not yet announced another fundraiser, but they are collecting additional donations for Puente del Pueblo and to offset the cost of baking supplies. All questions and comments can be sent to their Instagram page, @bakingtogiveback.