Joe Ives: 2018 Difference Maker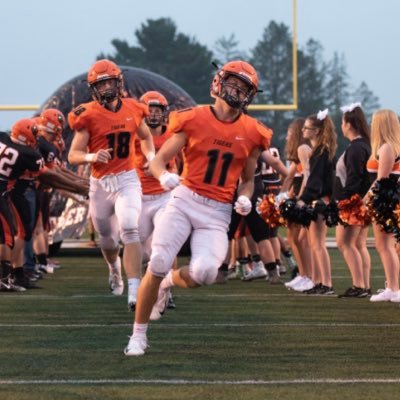 The Geneva quarterback drops back and thinks that he has an open receiver down the left side of field but the receiver was being guarded by Zach Powell. Joe Ives, the Wheaton Warrenville South Tigers free safety reads the forty-yard pass and is able to make a play on the ball and intercepts it at the fifty-yard line. Ives secures the ball safely in his right arm and begins his trek towards the end zone. As Ives is running, he picks up a lead blocker in Lauden Dome, the Tigers "rover," but luckily, the rest of the Tigers had picked people to block and sealed off an alleyway for Ives to run into the corner of the end zone. As Ives passes the five-yard line, there is a Geneva player trying to tackle him so he makes the quick decision to dive for the pylon and is able to squeeze in untouched.

The Tigers are off to the best start to the season in five years. They are currently have four wins and only one loss. The Tigers wins include Metea Valley, Lockport, Geneva, and Saint Charles East. Unfortunately, the Tigers lost to the returning state champs from Batavia High School. As Senior safety Nasri Khayal said, "Ives really is able to make all our jobs easier on defense because we know that if a ball is thrown is way or a runner is going at him we know that ten-out-of-ten times it is going to end well for us."
The Tigers have been able to string together some wins solely based on their defenses presence and ability to get the football back for their offense.

As Joe Ives said, "our main priority is to get the ball back for our offense no matter what, not necessarily getting turnovers or picks but those certainly help with momentum and can help get our offense fired up."
Ives has been able to force seven turnovers with five interceptions and two forced fumbles. This shows how the Tigers have been able to fly around the football field and get the football back for the offense and their tenacity even though they are considered to be an undersized football team.

The Tigers are off to one of their best starts in five years and are trying to prove that they are the real deal again. Ives said, "Our slogan for this year is, "earned not given," and our coaches make us work hard everyday in practice and I feel that we as players respond to them and our play on friday nights really shows."

Senior safety Joe Ives has been on a mission to prove that Tiger football is back and that the team is not one to be taken lightly. Ives play on the defensive side of the ball and the special teams aspect have really shown that he is a team player and able to motivate his teammates to play better.