Wheaton Co-Op Gymnastics Charges Toward Championship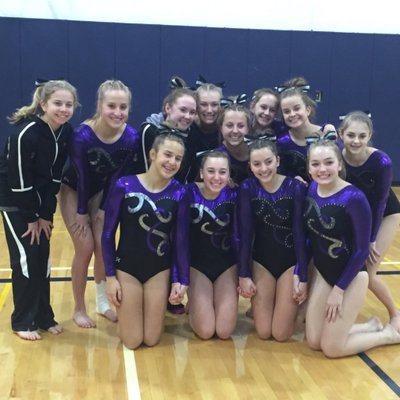 Hang on for a minute...we're trying to find some more stories you might like.
Some of the girls from the Wheaton Co-op Varsity Gymnastics team are headed to state this weekend. On Feb. 15, the preliminaries will be held at Palatine High School with Jackie Kerth, Emily Burnham, Macy Smykal and Caroline Gillis representing Wheaton. Each individual completes their event and so will qualifying teams.
The girls are not done that day, however. On Saturday Feb. 16, the state finals will commence where the top 10 gymnasts of each event compete again for the state titles. Since this is a co-op team, Wheaton Warrenville South and Wheaton North are combined into one group, leaving senior Jackie Kerth as the only varsity member competing on behalf of WWS.
Even with so many events, they are all out of 10 points, depending on your start value. "Each routine needs a certain number, as well as type of skill to be able to obtain a 10.0 start value. On floor, there are certain jump requirements, as well as number of passes that need to be performed," explains Kerth, "each routine is graded in many different categories like form, event requirements, composition, as well as bonus you get for doing higher level skills."
The girls prepared for each meet by practicing for two and a half hours each day and 3 hours on Saturdays and holidays. "We practice over Christmas and Thanksgiving breaks too," adds varsity Gymnastics Coach Mrs. Kermend. They do pressure sets in the gym while trying to workout as if they were competing for real. Even the little things mattered to the team. They made sure that they focused on minute details that would make all the difference when they were actually competing. Pointed toes and straight legs were worked on throughout each practice so "we could deliver consistently clean routines," adds Kerth.
Although only some of the girls qualified for state, the other powerful varsity girls are cheering on their teammates. "I think we were a bit disappointed that we couldn't go together as a team, but we are very proud and very excited to see our girls compete at state," affirms junior member Maura Clark. They motivate each other to "not only work hard, but to have fun."
The team contributes effort everyday and put in all they have into every practice. The majority of the team is made up of seniors but the underclass girls that will come forward to represent their school next year will surely keep this streak of professional performance going.  Kerth went on to celebrate her team's accomplishments, "Winning a state title would just be really rewarding to be able to finally see all our hard work manifested on a state plaque. I have no doubts that next year the team will dominate at state."