Stopping Traffic: Parking Lot Congestion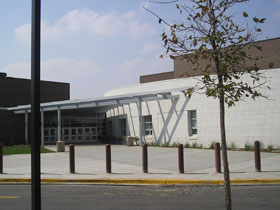 Hang on for a minute...we're trying to find some more stories you might like.
High school opens up a vast amount of opportunities for students. Whether it be sports, theatre, arts, drama, foreign language, academic clubs or any sort of activity students are given the ability to find other people with similar interests. According to Census Bureau, a qualitative data collecting website, "Fifty-seven percent of children between 6 and 17 years old participate in at least one after-school extracurricular activity." Extracurricular is defined as being an activity outside of the regular curriculum therefore in the case of high school students their activities take place after school. After school activities are an amazing source for students to pursue any passion but what a shame it is that the students at Wheaton Warrenville South struggle to get to theirs on time.
The way the students leave the parking lot after school at Wheaton Warrenville South high school has been organized in a new way that has caused a wave of frustration from the students. The new organization of the parking lot after school seems to prove inefficient in getting students and parents out quickly.
As a result of the new traffic patterns in the parking lot students are struggling to make it on time to after school activities. In a survey of 53 Wheaton Warrenville South students 84.9 percent of those students reported that they need to be home or leave quickly after school. These students reported that they have either sports, work, clubs or activities that they need to get to quickly. Wheaton Warrenville South student Juliana Gonzalez participates in soccer at South, has after school activities she needs to be at on time and has noticed the inefficient new way the parking lot is run. "The new way that the parking lot is organized causes a lot of traffic and causes students to be stuck at school for excessive amounts of time," said Gonzalez.
According to Driving-Tests.org, "Drivers ages 15-20 had the highest representation in speed related fatal crashes (32 percent and 22 percent) compared to any other age group in 2016, (NHTSA, 2018)." The high school age range falls directly into ages 15-20. In the WWS student survey 83 percent of these student drivers reported finding themselves frustrated with leaving the parking lot after school. Organizing a parking lot that clusters all these student drivers into a congested parking lot and causes frustration only raises the likelihood of drivers causing impatient and aggravated related accidents.
The parking lot has been organized in a way that the line for parents to enter builds up quickly after school and blocks the students path into student exit lanes. This wall of parent cars causes the students to have to wait for all the parents to filter through and pick up their children before they are allowed to leave which is a time consuming process after school. In the same survey of 53 South students 58.5 percent said it takes over 15 minutes to get out of the parking lot. Majority of the students in the same survey blamed the parent cars for the traffic caused on the student side of the parking lot.
It is in the schools best interest to correct the management of the parking lot so its' students can fulfill their commitments to teams, clubs or jobs and make it out of the parking lot happy and safely. Matt Brennan and senior at Wheaton Warrenville South suggested, "No more cones and have the parents pick up their kids somewhere else." As a possible solution, having the parents pick up their kids at another location would entirely clear up the parking lot for students to leave quickly after school. There are locations across the streets of Wheaton Warrenville South that could serve as pick up areas for parents.
From a national perspective Arizona State student Nancy La Vigne wrote about the problem of traffic congestion around schools and recognized, "The most obvious cause of traffic congestion around schools is vehicles, and the biggest source of those vehicles is parents dropping off and picking up their children from school." Moving forward although the students do not have direct control over the organization of the parking lot hopefully the administrators involved recognize the problem and source to benefit the community involved.