A Sweet Treat that Can't be Missed: Jeni's Splendid Ice Creams
Hang on for a minute...we're trying to find some more stories you might like.
A cute multicolored awning, striped umbrellas and vintage sign greet guests as they emerge from the escalator; not even snow could keep shoppers away from this ice cream shop. Jeni's Splendid Ice Creams—often just called "Jeni's"—is famous for its unique flavors and cute decor, creating an environment of fun for people of all ages. The shop especially appeals to an older teen and millennial population. Jeni's has locations across the US with a new location in Oak Brook Mall as of August 14, 2019. 
Jeni Britton Bauer is the founder of Jeni's and has been making ice cream professionally for two decades. The shop uses dairy from grass-pastured cows and omits any dyes or emulsifiers, making Bauer far ahead of her contemporaries when she founded the shop in 2002. 
Always one step ahead of other ice cream parlors, especially when it comes to environmental issues, Jeni's ice cream has a very creative waste disposal system. At Jeni's, almost all materials are compostable; unlike with recyclable materials, when food gets on your plate, it's all good! With three different options to dispose of products—compost, recycling and landfill—nearly everything is composted and almost nothing is thrown away. 
Furthermore, according to Jeni's website, "Jeni's Splendid Ice Cream is a Certified B Corporation endorsed by the international nonprofit B Lab as a company that meets rigorous standards of social and environmental performance, accountability, and transparency." Not only does Jeni's satisfy your sweet tooth, it also satisfies the part of you that's sweet on the environment. 
Fortunately, their commitment to sustainable environmental practices is not at the expense of flavor variety or the "yum" factor that draws customers back to Jeni's again and again. With a total of 37 unique flavor varieties across their locations, Jeni's truly has something for everyone—even dairy-free gals like me. On my visit, I tried the frosé sorbet, one of the few flavors they had that was both gluten and dairy-free. Sadly, I didn't enjoy my selection and wished I would've gotten the limited edition chocolate truffle. However, my friends had quite a different experience. 
According to Alex Ongstad, a senior at Wheaton-Warrenville South, the ice cream is "very creamy, and Jeni's has a nice twist on original flavors." Alex, who had the Honey Vanilla, thoroughly enjoyed his experience at Jeni's. 
Another student who got the salted peanut butter corroborated Alex's statement. Senior Nathan White said, "Initially I doubted the salted peanut butter part, but it's actually quite good." Jeni's celebrates old flavor combinations and spices them up a bit, sometimes literally! 
As for the cones, Jeni's is famous for their homemade Buttercrisp Waffle Cone, a cone that, according to one student, "is well cooked." Not burnt and not too soft, Jeni's Splendid Ice Creams offers the Goldilocks of waffle cones.
While the ice cream is important, the final defining trait of Jeni's is its atmosphere. Being a cute store nestled between other shops above Oak Brook Mall, Jeni's Ice Cream demands attention. With a retro light-up sign and cute outdoor and indoor seating—making it feasible no matter the weather—Jeni's atmosphere especially appeals to young adults. Brightly colored signs and pictures adorn the walls. A fun and functional curved seating area makes meeting with friends enjoyable while bar seating by the window creates an atmosphere conducive to solo ice creaming. 
Although Jeni's Splendid Ice Creams is not cheap—charging $5.50 for a large scoop or for two half scoops—it is the perfect destination for those seeking a fun night with friends and to make ice cream a social occasion. I would give Jeni's a four out of five stars due to its cute atmosphere, wide flavor variety, and great environmental practices. At Jeni's Splendid Ice Creams, going out for ice cream truly is a treat.
About the Writer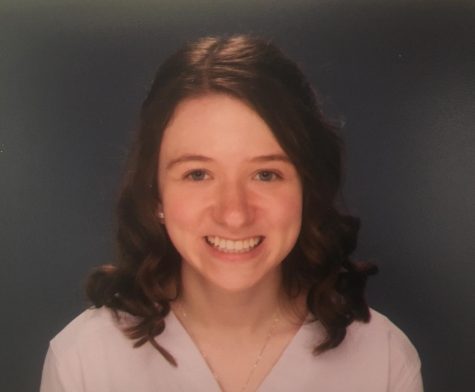 Victoria Lemon, Co-Editor-in-Chief
Victoria Lemon is a senior at Wheaton Warrenville South and has been writing for The Pride since her freshman year. She loves reporting on school events...