Zayna Meyer: Division One Material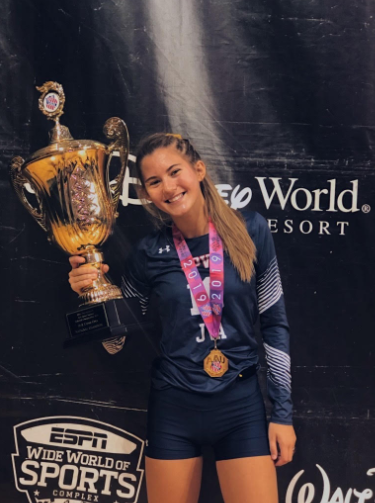 The beginning of senior year is arguably the hardest time period high school students will ever encounter simply because it is college application season. Scrambling to submit applications by the early action deadline of Nov. 1 is stress inducing, with many people unsure if they are making the right decision.
Fortunately, junior at Wheaton Warrenville South, Zayna Meyer, will not be participating in the college application frenzy at the same time as her peers. In Apr. 2019, Meyer was recruited to join Brigham Young University's volleyball team, committing to the team during her sophomore year of high school. 
Meyer's successful volleyball career did not happen overnight. First introduced to volleyball when she was only five years old, she has been playing for as long as she can remember. Talking about how she got her start, she is a legacy when it comes to the sport. "Both my parents played and so did all of my siblings. Since my whole family played volleyball I was kind of automatically put into it but I fell in love!" said Meyer. With such a strong support system, she is able to dedicate herself to volleyball in a way that not many people are.
Going nonstop, Meyer is great at keeping a healthy mindset throughout her life. ¨I think the thing that motivates me the most is my love for the sport. I have played the game so long I couldn't even imagine stopping. It has become a part of who I am,̈  said Meyer. Playing year round, she has become an extremely valuable player, yet she does not boast about her talent. With this, she sets a great example for athletes who aspire to one day be on the same path as her. 
Working well with a team is crucial when it comes to volleyball, and talking to Zayna, it is easy to see how she perfectly lives up to that role. Being someone a majority of students at South know and love, Zayna is always up for a conversation and finds it easy to get along with anyone she meets. 
South is not the only place affected by Meyer's bright personality. BYU has been lucky to have her visit for a volleyball camp, which is how she was introduced to the team. Zayna is excited for her future at the school, explaining why she chose to commit so early in her high school career. "Brigham Young has an outstanding volleyball program and I bonded with the coaches right away. It was my top choice as a college for a while, and when they offered me, I committed two days later. I'm also so stoked to be going there with my brother, Zeo," said Meyer. 
Leading by example, Meyer's accomplishments set her apart from other athletes her age. With a bright future ahead of her, Zayna is a force to be reckoned with on and off the court.