Wheaton Warrenville South's Aidan Waszak Advances to Sectionals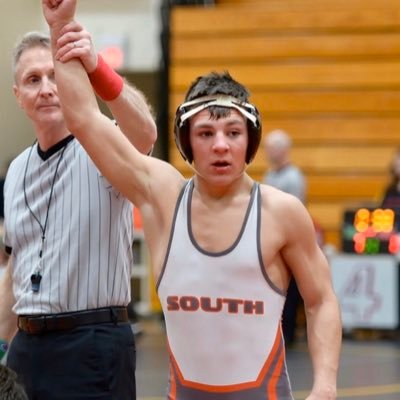 On Saturday, Feb.8, Wheaton Warrenville South Wrestler Aidan Waszak won a hard fought Regional Championship to advance on to Sectionals. Waszak pinned his last opponent in order to secure the win. Waszak wrestled in the 126lb. weight class. 
Wheaton Warrenville South was one of eight schools to compete at the Regional including Naperville Central, Marmion Academy, Metea Valley, Naperville North, Waubonsie Valley, West Aurora, and East Aurora. Waszak was very complimentary towards Naperville Central for bringing the best talent to the competition. "Naperville Central had the most competitive team there because they had a full lineup of good quality wrestlers", said Waszak. Although Naperville Central was a strong competitor along with other Dupage Valley powerhouses, they were no match for Waszak.
The two-year team captain and varsity starter sets a good example for underclassmen tiger wrestlers who seek high ambitions for their future. The young leadership role Waszak had as a sophomore helped him develop good work habits that he continued over the summer and during the season which benefited him coming into Regionals. The junior will be returning to the sectionals for the second year in a row with his eyes set on a bigger prize.
The Regional Championship is just a stepping stone for Waszak from all the work he put in with his teammates over the summer coming into the season. He had the skill but just needed to execute on the mats and did so this past Saturday. Once the referee held up his arm declaring him the winner he knew all the work was worth it.  "At that point I was just proud of myself but words can't really describe the emotions and feelings that I was going through at that moment", said Waszak.
Waszak has a chance to represent Wheaton Warrenville South on Feb.14-15 at Sectionals. If he advances he will be the first wrestler since State Champion Spartacus Chino in 2011 to go to the State Finals. Waszak will have the opportunity to accomplish what no Tiger has been able to in almost 10 years.