Bowled Over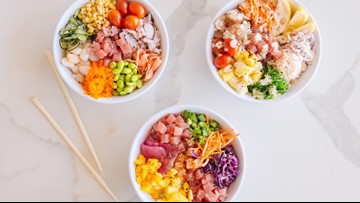 As the New Year began to settle in, KFC made an announcement to the world. They were reintroducing their 'Famous Bowl' entree, a fatty combination of mashed potatoes, corn, cheese, gravy and popcorn chicken. As gluttons everywhere celebrated, dietitians let out a collective groan. But KFC was not simply bringing back a dish. They were capitalizing on a new trend in the food industry.
'Bowl food' has taken over the restaurant industry. The trend is actually several years old, and became well known after Prince Harry and Meghan Markle exclusively served it at their wedding. The BBC, reporting on this wedding, said that bowl food is "larger than a canapé and around a quarter of the size of a main course. It is served in miniature or hand-sized bowls and comes ready to eat with a small fork." However, the definition has evolved over the time since the wedding, as popular fast food and casual restaurants have begun to adopt the style. From California Pizza Kitchen's 'Power Bowls,' to KFC's aforementioned offering, it seems like the consumer is getting tired of the plate.
One of bowl food's most attractive features is its potential as a healthy alternative. Panera Bread in particular introduced their 'Warm Grain Bowls' back in September, billing it as a cross between a hot sandwich and a salad. When interviewed by Food Business News, Executive Vice-President Daniel Wegiel advertised the bowls as being filled with "nutrient-dense, fresh, layered ingredients, lean protein, veggies, grains and flavorful sauces." 
Eating healthy is more important to people now than ever before. With organic food and low calories options everywhere you look, people are trying to cut down on the junk. Bowl food is capitalizing on this tendency, and it's working for the restaurants implementing these new entrees. Among South students in particular, a staggering 94 percent of 39 students polled said they would buy a Panera Grain Bowl. Clearly, a healthier meal pays off for both the consumer and the producer. 
Another draw of bowl food is multiculturalism. Restaurants like Applebee's and California Pizza Kitchen have used bowl food as a method to explore more exotic flavors and ingredients. Applebee's Crispy Orange Chicken bowls and CPK's Shanghai Power bowls are clearly attempts at replicating Chinese cuisine, a far-cry from burgers and pizza. South students again seemed to like this aspect: Senior Annika Barron said that she often orders food "that I cannot easily make on my own." A bowl of watermelon radishes, seared shrimp and black heirloom rice seems to fit that description.
While some restaurants are adding diversity to their menu, Lemon Shark Poké's is built on top of it. Poké is the traditional Hawaiian style of chopping or slicing raw fish, but Lemon Shark combines it with a Subway-esque choose your ingredients menu, serving it in (you guessed it) a bowl. Lemon Shark Franchisee Mike Kessler has a deep history with this type of food.
"Growing up, I was always very drawn to Japanese culture," said Kessler in an interview with the Kane County Chronicle. "I liked sushi [and poké has] a lot of the same kinds of flavors, obviously with a Hawaiian flair."
Bowl food has probably taken off, especially in Wheaton, because of people's interest in something different. 92 percent of South students said that they would consider ordering bowl food in a restaurant, an overwhelming majority. With this heavy interest, it only makes sense that the industry is beginning to catch on. According to Statista, around 13,000 new restaurants were started between 2017 and 2018, and in order to make themselves stand out, they would have to latch on to a new trend, like Lemon Shark Poké has with their business. Bowls just seem to put more money in the registers.
The only thing holding this trend back is one of practicality: specifically, cost. Many of these bowl items are incredibly expensive compared to the other items on the menu. For example, CPK's Shanghai Power Bowl costs more than any of their pizzas, and a bowl at Lemon Shark can easily cost upwards of $15. Even Jamba Juice's bowls are some of the most expensive items on the menu, and even Jamba employee Ben Howell agrees that it limits sales.
 "The current price of a Jamba bowl is $8.20 without tax," said Howell. "Such high prices can discourage many customers from buying Jamba bowls and from going to Jamba at all."
South students agree: For 82 percent of those surveyed, cost was a major concern when it came to ordering food. If restaurants aren't able to offer cheaper versions of these dishes, then bowl food is likely to stagnate, and eventually disappear. For now, though, it seems like bowls are here to stay.