Character & Commitment: Jason Haw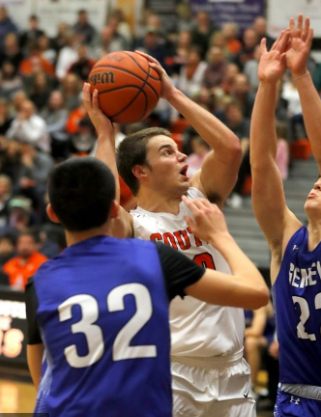 After seeing a crowded Wiesbrook library full of kids having the times of their lives you can see one person, in the middle of the crowd, being the source for all the elementary schoolers' joy. That kind human being is Jason Haw, Jason is a senior at Wheaton Warrenville South, and is on the varsity football and basketball teams, while also still finding time to qualify and receive membership to the National Honor Society.
Jason has always been the kind of guy who loves to give back, and that's not hard to find out judging based off of all the countless hours he has volunteered for others. Jason was raised with good morals and respect for others. All of the underclassmen look up and aspire to be him when they are seniors.
While Jason wanted to be in the National Honor Society he feels it is just a result of his character. "I love to just give my time to other people, and make their day, or just help them out. I have always volunteered for others, the National Honor Society just gave me a chance to get recognized for it" said Jason
Fellow basketball teammate of Jason, Ben Batian has also taken notice of Jason's will to help others "After this one basketball practice, everyone was taking their time to leave, but not Haw (Jason), I remember he was rushing to get out the door because he had an event he had to get to that he was volunteering in" said Bastian
Not only does Jason find time to volunteer, he is also a top athlete on two highly competitive sports teams. Jason plays key roles in both Football and Basketball, starting on both teams. "Haw (Jason) just works his butt off during the off-season and tries to be the best version he can be. Haw is someone all of us can count on, it's no mystery he plays such a huge role in our role" said basketball teammate Ben Bastian.
Overall Jason Haw is one of many great things a part of the 2020 class. As his college decision comes to close end, any of his top 3 colleges would love to have a kid like him on campus. Jason is hard-working and enjoys giving his time to others, there is no doubting that he has a bright future ahead of him.