Wheaton Warrenville South Fashion Show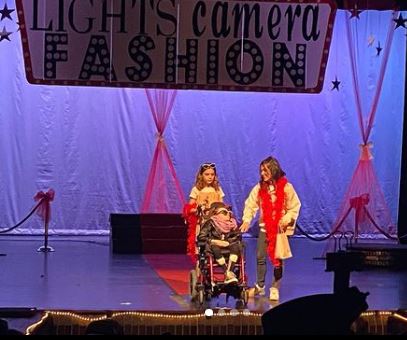 The fashion merchandising classes at Wheaton Warrenville South high school held a fashion show in the auditorium on March 3. Students were able to show their fashion expertise by dressing up some of the seniors and raising money for a local charity.
The fashion show was themed "Lights, Camera…Fashion!"  As such, the show opened with a paparazzi section.  Models walked onto the stage, all sporting the color red, and were photographed by the student paparazzi—their fellow classmates. Following this, there was a casual wear segment in which students appeared on stage in pairs.
Before the 10 minute intermission, the WWS Dance Team made an appearance. They danced to Lana Del Rey's "Young and Beautiful." After the intermission, the students modeled formal attire for the prom segment of the show. The show ended with the Senior Superlative winners. Raffles prizes were given out three times during the show.
The proceeds of the fashion show were donated to a local cause. In the District 200 community, a girl named Cammy was born with a rare genetic disease called Rett syndrome, which only impacts girls. Rett syndrome is a genetic mutation that affects brain development. After the first six months of birth, girls with Rett syndrome begin to lose coordination, speech, and use of their hands. There is no cure to Rett syndrome, only medication, physical and speech therapy, and nutrition support to help manage the symptoms. Cammy and her parents have been fighting with Rett syndrome for years, and they have hope that she will one day beat this. They started an organization to raise money for Cammy's treatments called Cammy Can.
The fashion show was a great event that raised money and awareness for Cammy while also supporting local businesses by showcasing many different outfits from local stores.