Band Puts on Quirky First Concert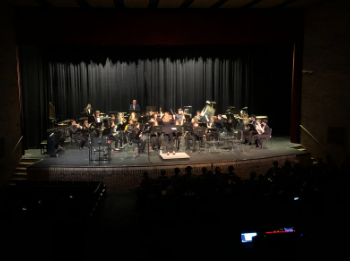 On Tuesday, Oct. 4, the WWS bands performed their first concert of the year in the auditorium. The concert theme was cinema, novelty, and fun. The bands serenaded the audience with fan-favorites like "The Avengers" and "The Lion King"; but, also obscure novelty pieces like "Paper Cut" by Alex Shapiro.
One of the more unique pieces Concert Band performed was "Paper Cut," where band members substituted their trombones and flutes with sheets of paper. Rather than a traditional instrumental performance, the band played with the rhythmic sound effects of crumpled and ripped paper to create music. Additionally, Concert Band featured special guest Principal Scott McDermott on the cowbell during their second song.
Symphonic Band played the usual movie soundtracks and band favorites, but a highlight was hearing clarinetist Danielle Ferguson solo during "The Typewriter." The syncopated key tapping of the typewriter on stage joined the rest of the band instruments for a fun percussive flair.   
Later on, Wind Ensemble featured percussionists Eli Berry and Isaiah Ramos on "The Waltzing Cat," where they occasionally chimed in with vocalized meows and barks. Ramos said this was his favorite piece of the night "because I got to meow and bark and snarl."