Halloween Is The Most Wonderful Time Of The Year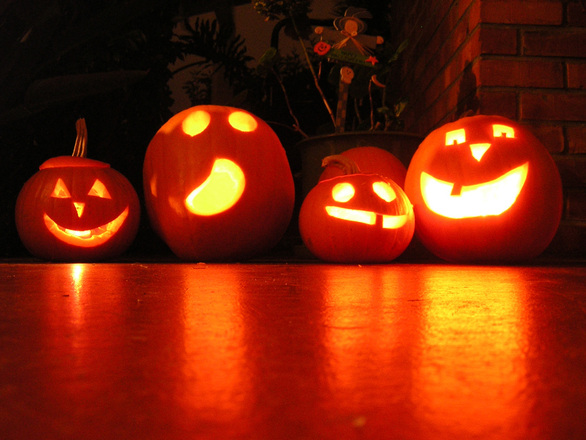 Halloween: the time of year when amounts of dentist appointments and cavities skyrocket Everyone loves the holiday season, Christmas, Thanksgiving, and New Years, but Halloween is often overlooked. Halloween, unlike many others, requires small effort. Whether it is staying home and watching Hocus Pocus, trick or treating, or decorating your house, Halloween should be appreciated more because it allows others to be more expressive. Halloween requires small effort and provides satisfaction.
                    Unlike many holidays, Halloween allows people to be creative and is a good excuse for many to justify their questionable attire. Arguments such as, "why do you have so many cavities?" and, "why are you wearing fake blood?" could be easily explained by the reasoning of Halloween. In The Sunflower, an article titled, "Halloween is underrated," explained Halloween is an appropriate time to go all out and wear bizarre costumes. Columnist Elena Kuckelman stated, "Getting to dress up in a costume is partly what makes Halloween so unique. When else is it acceptable to wear an outfit covered in fake blood while carrying a toy knife or to cut holes in a sheet and dress up as a ghost?" She reasoned how Halloween is the best time of year to display your expressive side and it does not require much. Whether it is making a costume out of scratch from your favorite show or wearing a pair of cat ears from the Dollar Store, it encourages fun and excitement about the holiday. 
Halloween is also a perfect time to decorate. The combined colors of black and orange bring a spooky and spirited feel to the season. In The Greenman review, an article titled, "The Meaning Behind Halloween Aesthetics", claimed that the orange and black we all know and love came from traditional Halloween festivities that began the holiday. The article stated, "The color orange was a nice substitute for actual flames, Halloween pumpkins also evoke the sun by combining orange with candlelight. The color black is more readily explained by its association with shadows, darkness, and death." The history behind the ghostly aesthetic brings much joy to individuals who just can't wait for September to start decorating. From the orange pumpkins to the black plastic cat figures, the spirit of Halloween can do no wrong. The cheapest plastic witch or skeleton can boost the frightening Halloween spirit. With the help to boost positivity about the holiday, Halloween would agreeably be the most wonderful time of the year. 
                  It is time for individuals to rise up to the Halloween occasion. The one-time-a-year spooky season only lasts so long, no one should miss it! You can never be too old or too young to start getting into the spirit of Halloween. Thirty-one days of October means thirty-one days of freaky fright and fun. Halloween can be a fun and accessible holiday for everyone.