The History of Wheaton Warrenville South High School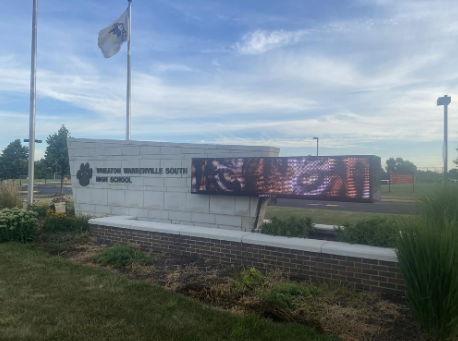 Most people believe that Wheaton Warrenville South High School has only been around since 1993. However, the school's history is actually incredibly deep for a suburban high school. It has existed in some form for over a century, and has been under five different names!
Wheaton Warrenville South's history can be traced all the way back to 1876, which was when Wheaton's original high school, Wheaton High School opened its doors. It was minuscule in size in comparison to South today. Despite that, some of the most notable alumni in the school's history came from this era. Most notably, famed astronomer Edwin Hubble and famed football player Red Grange. To this day, the school still considers them the most impactful alumni to ever attend the school. Wheaton Warrenville South's activity director Matthew Stellwagen has a theory as to why. "People like Red Grange and Edwin Hubble did incredible things," Stellwagen said. "But they also contributed to their own community and were hard workers outside of the things they were known for." 
Despite the school's accomplished alumni, Wheaton High School eventually became too small to fit the city's needs. Thus, in 1925 the school was relocated to a new building in the center of Wheaton and was renamed to "Wheaton Community High School". The most notable alumni from this time period was Bob Woodward, the investigative reporter known for playing a major part in uncovering the Watergate scandal whilst working for the New York Times. Not all was fine in this era, however, as a 1946 fire burned down a majority of the school's cafeteria as a result of a broken vending machine. But the cafeteria was rebuilt, and the building would remain standing even as its name was changed to Wheaton Central High School in 1964, alongside the completion of Wheaton North High School. 
It wasn't until 1973 that the building which houses Wheaton Warrenville South today was built. Opening as Wheaton-Warrenville High School, it was built to serve students from Warrenville and the south side of Wheaton. However, the school was opened at an unfortunate time. Wheaton's student population was declining, and there was soon clearly no need to run three high schools in the city. As a result, the Board of Education decided to close the newly built Wheaton-Warrenville High School and turn it into a middle school in 1983. The short-lived school had no particularly notable alumni, but Wheaton Central certainly did. The Belushi brothers (better known as the Blues Brothers) graduated from Wheaton Central in 1967 and 1972 and would later become a famous comedy act.
But the aging Wheaton Central building would clearly not be serviceable as a high school for much longer. So, in 1990 the School Board made the decision to move Wheaton Central into Wheaton-Warrenville Middle School's building under its current name: Wheaton Warrenville South High School. The hyphen was removed to show a lack of division between the two cities.
Although it was only opened in 1993, the school has many classic traditions and a strong sense of community. One of activity director Stellwagen's favorite traditions of the school is when "Eye of the Tiger" plays at the bell every Friday. "It's gone on for over 30 years, which is incredible.," Stellwagen noted. Clearly the school's rich history still shapes its current academics and operations, and looking into it just might surprise you at how deep the history of a suburban high school can go.