Holiday Cheer with the WWS Choral Program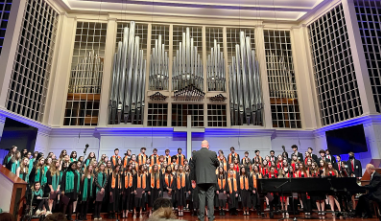 Wheaton Warrenville South High School orchestrated its annual winter showcase on Tuesday, Dec. 13 at College Church in Wheaton. This showcase was as a delightful way to end the semester for the choir program. These skilled student singers have worked on their songs for the choirs that they reside in since the beginning of November. " It was a wonderful night of holiday music with a dash of celebration and a heaping helping of community and fellowship," said Chris Miller, the lead choir director. 
The one-hour show run time consists of multiple choirs: Base, JV, Varsity, and Chamber choir. Each choir sang its songs for the audience, and in between the choir performances, they all sang Christmas carols.  The audience was encouraged to sing along. In the concert, there was a special performance by the acapella choir, which also happens to be student-run. During the concert, each choir moved through the audience as they sang. At the end of the concert, all of the choirs combined to sing the song "Peace Peace".  At the same time, the audience members sang "Silent Night", which was led by Chris Miller. 
This event displays jolly cheer between the community and the WWS singers. For years now the students and the audience have said that this is their favorite choir concert of the year, and are looking forward to the show as a highlight in their winter season. As noted by Maggie Kostner, a chamber student singer, her favorite part of the concert is, "I like when the audience sings with us and I feel like they always have a lot of fun being a part of it all." This concert truly is an event not to be missed. It's a show that warms the hearts of our community for the whole holiday season.