Basketball: South Splits Crosstown Classics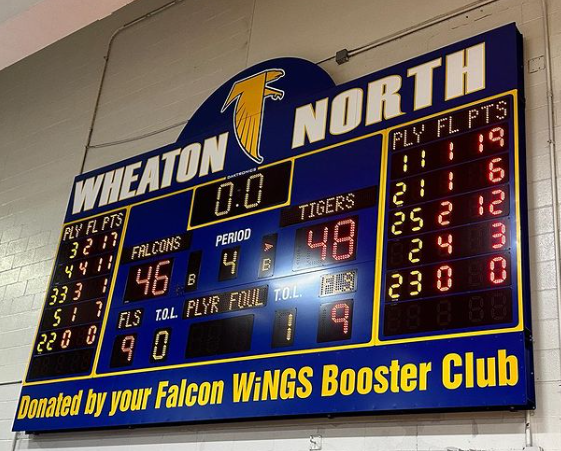 The Wheaton Warrenville South Varsity basketball teams both played against Wheaton North at the Neibch Gymnasium on Dec. 16, 2022. The first contest of the night ended in a 62-45 loss for the WWS Girls' Varsity basketball team. Subsequently, the WWS Boys' Varsity basketball team defeated the Falcons 48-46.
The opening game did not start well for the Tigers. Wheaton North began hitting three-pointers early on and quickly built up a considerable lead. They would not relinquish it for the rest of the match. By halftime, the Falcons' advantage had increased to 17 points. However, the Tigers were not going down without a fight. A third quarter push got them within ten, putting the game within reach. Unfortunately, North regained momentum after that and controlled the contest entering the fourth quarter.
Back-to-back three-pointers for North in the opening minute of the final quarter sealed the Falcons' win. Emily Troia led all scorers with 20 points for the Tigers, while Hannah Struebing added 11. North was led by Sara Abdul, who scored 17 points. This loss dropped South's record to 2-8 overall. "We're gonna continue to play against some very tough competition and they force you to learn things really quick," WWS head coach Rob Kroehnke said. "So, we've got a lot of time left in the season, but there's definitely some things that we've got to clean up."
Coach Kroehnke was honored after the game, which was his second-to-last crosstown classic. He is retiring after this year, having coached the Tigers for 22 years and taught in District 200 for 33. "You've gotta enjoy every moment," coach Kroehnke remarked. "We've had a lot of ups and downs in this gym, so it's a little bittersweet."
The second match also had an unfavorable beginning for WWS. Turnovers plagued the Tigers' offense as they started slowly, only scoring four first quarter points. After South gained some momentum late in the second quarter, North scored a buzzer-beating three-pointer to enter halftime with a nine-point lead. Nevertheless, the game would be turned on its head after that.
The Tigers absolutely dominated the third quarter, gaining the lead for the first time in the contest. Fast break points and defensive resilience were key for South as they held the Falcons scoreless in the third quarter, winning it 23-0. "We took care of the ball, we made good decisions in transition, we didn't turn it over," WWS head coach Mike Healy stated. "We're pretty decent when we don't turn it over."
North responded in the fourth quarter and the game went down to the wire. Two clutch free throws from Marco Gonzalez essentially secured the win for South, Hudson Parker's last second three-pointer was not enough for the Falcons. Colin Moore led the way for the Tigers with 19 points and Braylen Meredith pitched in with 12. Jack Speers was the Falcons' leading scorer with 17. WWS improved their record to 8-1 overall, including 4-0 in DuKane Conference play. "With this group, we're taking it game by game, just trying to get better," coach Healy indicated. "So, we've got Batavia on Thursday, we'll focus on Batavia."