Basketball: WWS Bows Out of IHSA Playoffs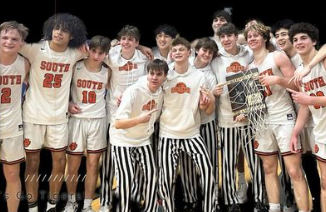 The Wheaton Warrenville South Boys' Varsity basketball team lost against Geneva 31-28 on March 1 at Bartlett High School in the sectional semifinals of the IHSA playoffs.
The match was a low scoring defensive battle between the two teams, resulting in a slow pace of play and the inflated value of each point scored. Both sides struggled to score until WWS' Brody Canfield and Geneva's Tanner Dixon and Jack Hatton exchanged three-pointers towards the end of the first quarter, which ended with the Vikings ahead 13-10. The second quarter mirrored its predecessor, with the lead going back and forth. Michael Lawrence's three pointer for Geneva gave the Vikings an 18-16 lead heading into halftime. The Tigers were unable to establish themselves offensively throughout the first half.
South's response, and best performance, arrived in the third quarter. Momentum swung in favor of the Tigers as a stretch including a Colin Moore and one play and another Canfield triple extended their lead to 26-18, the largest of the game. However, the Vikings quickly erased most of it on a 5-0 run to close out the penultimate quarter. Unfortunately, South was unable to replicate their third quarter success in the final period of the match. With only 10 points combined, two of them from WWS, the fourth quarter was an intense and gritty eight minutes of defensive hustle from both teams. With little margin for error, the Tigers were unable to hold on to their 28-27 advantage entering the final two minutes. Turnovers on four consecutive WWS possessions and a Hatton layup for the Vikings with nine seconds left were too much to overcome as South fell short of reaching a second straight sectional final.
The Tigers ended the 2022-23 season with an overall record of 27-6, having achieved a third straight DuKane Conference championship and second straight IHSA regional title. "They were unbelievable," indicated WWS head coach Mike Healy. "I don't think people thought that we would win a conference championship, regional championship… they did it the right way, so I'm very proud."