Wheaton Warrenville South's Speech Team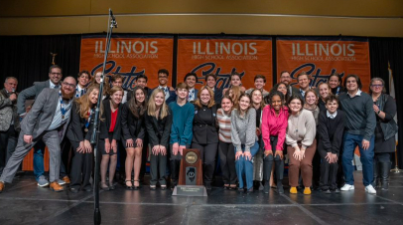 The Wheaton Warrenville South Speech team has existed for a while, seen from South's first State championship in 1961 to this past year's championship in 2023. 
The activity, Speech, is run by IHSA with the season officially starting in November after auditions mid-September. What the South Speech team dubs the "regular" season is composed of competitions every Saturday from November through January, and the IHSA State series is during the first three weeks of February. 
Jacob Purdue, placing 5th in Original Oratory and 1st in Informative Speaking, said: "Part of the reason I think we had so much success this year is because the seniors number one priority was maintaining a healthy team dynamic…I would encourage everyone to at least try doing speech. No matter what, you'll take home an incredible skill that will be useful your entire life."
Though hard for late risers, taking the bus at 5 or 6 in the morning is alleviated by the team spirit and support as well as the opportunity to share a message. Of the fourteen events, the types of speaking range from humorous or dramatic acting to personal address speaking, some of which you can write and others from a script.  
David DeMarzo, head coach, reflected: "We don't talk about winning. We talk about being proud of our performances and enjoying connecting with others. We realize that one person's success on the team is everyone's success because we all support each other. Our focus is on the love and joy of creating and performing."