Author Visit at WWS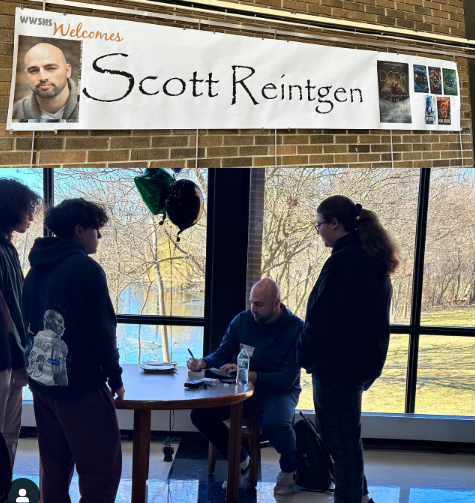 On Tuesday, March 14th, author Scott Reintgen visited Wheaton Warrenville South High School. Students filled into the library along with their English classes or through bookclub, in order to hear the author speak. Reintgen is a former English teacher turned successful young adult author. He spoke about his family, life, and what inspired him to become an author. He answered students' questions and even awarded one of his books to the audience member that correctly answered his trivia. 
Reintgen has successfully published 10 books, in contrast to the mere one that the average author publishes. As a result of this success, he has the ability to come to schools like WWS, and share his story. His most popular series are the Nyxia trilogy and the Ashlords duology. Both books have the common theme of competition and relationships formed alongside adventure. All of his books fall under the category of science fiction and fantasy. Although he respects authors who can successfully write realistic fiction, he said he could never do so without "adding a dragon or spaceship". 
The author's newest book, A Door in the Dark will be available soon on March 28th. Reintgen reports that it will be "his darkest book yet", featuring a group of untrusting young wizards trapped in the middle of nowhere after a spell malfunction. This fantasy thriller will certainly be popular. The majority of the author's books are in the young adult category, however he has written books such as Saving Fable, which is targeted toward a younger audience.
 Reintgen provided his audience with humorous personal stories, involving his first crush and fourth grade valentines. He shared stories of Albert Einstein, Michael Jordan, and Walt Disney, proving that failure is the only path to success. Scott Renintgen confirms that with a little faith, and a lot of disappointing responses from editors, dreams can become reality. Wheaton Warrenville South was certainly lucky to host such a witty and good-humored author.