The Rouse House: WWS Mom Opens Oswego Business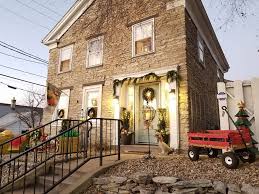 After a long day of kindergarten and playing on the playground, Frances "Fran" Hopkins ran inside to see her father, Ambrose Hill Hopkins, creating an extravagant work of art. In awe of the vibrant colors displayed on the canvas, young Fran always looked forward to the times where she could watch her father do what he loved: create art.
Today, Fran continues her late father's legacy in the world of art through her business and brand, Ambrose Hill Vintage. After observing and looking up to her father's works of art as a child, Fran grew up to channel her personal creative side through decorating, upholstery, sewing, and handcrafting items for the home. What began as making senior quilts for graduating class students at Wheaton Warrenville South High School evolved into an overall passion for home decor and art.
"I always loved to watch and learn from my father, so I thought, what better way to honor him than to name my business after him," Fran recalls.
Her business is featured in her own store, Stonehouse Market, which opened in May 2018. Located in Oswego, Ill., Stonehouse Market is a home decor shop offering a variety of handmade and vintage inspired pieces from both Ambrose Hill Vintage and other vendors within the store.
"I have always loved decorating with new and vintage one-of-a-kind items, so opening the store was a perfect opportunity to combine both of those things while working with other collectors and creators," says Fran. She hopes that in sharing her art with the world, she will simultaneously allow others to do the same.
To give back, Fran has taken it upon herself to partner up with a variety of local charities to donate a percentage of sales to their causes.
"We do quarterly donations of furniture items for people in need. Also, we are just now partnering up with the local Kendall County Animal Control and Shelter to give 20% of sales during our event towards the shelter," Fran explains. Knowing that she is blessed to own a business and shop, she feels compelled to give back to the community in any way possible.
From stay-at-home mom to business owner, Fran Rouse continues to find a variety of new ways to inspire the people around her.
"It's amazing to watch her do something that she truly loves while seeing the impact it has on others. I like to think of myself as a creative person, and seeing the person who instilled that in me take action is really inspiring," said Fran's daughter, Annie Rouse. Annie is now able to observe and learn about the creative process from her mother in the same way that Fran was able to learn from her father, a gift to be truly cherished. The combination of familial love and a passion for art is something that has truly stuck with their family for generations.
Whether it may be taking on the role of a creator, business owner or mother, Fran Rouse has shown no limit to the diversity of ways in which she has impacted those around her.