Lettuce Know: Responses to the E Coli Outbreak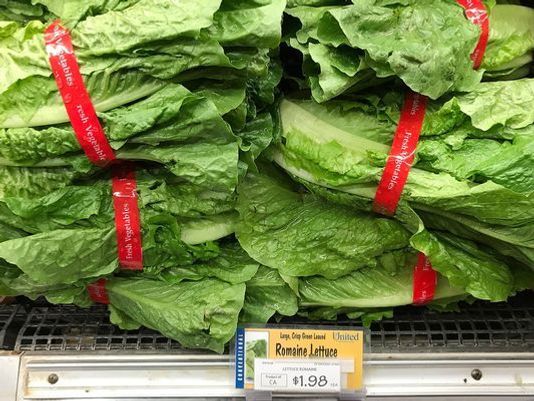 Whether it be spinach, iceberg, arugula or kale, there are a plethora of salad bases to get in your daily dose of leafy greens. However, the recent romaine lettuce recall has sent people into a frenzy, resulting in both jokes and nervous inquiries on social media.
According to USA Today, the Centers for Disease Control and Prevention (CDC) issued a food safety alert two days before Thanksgiving, reporting that 32 people across 11 states had become sick due to romaine lettuce contaminated with E. coli. According to ABC News, the same company, Adam Bros. Farming Inc, sent out a news release on Thursday, Dec. 13, saying red leaf lettuce, green leaf lettuce and cauliflower harvested Nov. 27 to Nov. 30 has been recalled because it may also be contaminated with E.coli.
Many people took a humorous approach to the amount of attention this recall is going, taking to social media to spread the exciting news. The general public did not seem too broken up about their newly limited options for getting in their greens.
Drew Talbert shares on twitter, "News: There is a temporary ban on romaine lettuce. Me: Never eat salad again, got it."
Others decided to a punny stance on the issue.
Senator John Cornyn shared a tweet, "Regarding E Coli outbreak, it is only the tip of the Iceberg, but Lettuce Romaine calm. Seriously, be careful out there and pay attention to CDC warnings."
The Food and Drug Administration (FDA) has been working hard to assure that future outbreaks can be both lessened and avoided. According to FDA Commissioner, Scott Gottlieb, major romaine lettuce growers have agreed to label all romaine lettuce going forward with both the date of harvest and harvest growing region. This labelling can aid in tracing the lettuce back to the source as well as market recalls as a whole.
For grocers, the primary concern is to restore consumer confidence. Stakeholders must try to minimize the detrimental effect that was unavoidably brought with the recall. The Produce Marketing Association shares that the optimal way to minimize this effect is to move quickly in quarantining the affected product. Stores that combine fast action with posting communications in store regarding being proactive about public safety will have the best success rates.
So, next time you want to get your fix of leafy greens, be sure to check your romaine labels. Or, better yet, just stick to sweets.