Mr. Miller's Musical Memories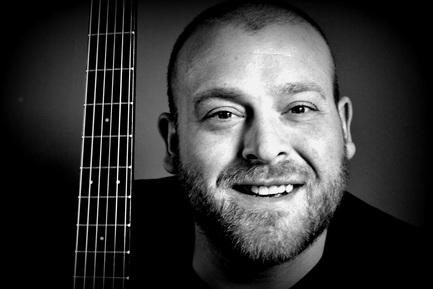 Mr. Miller, one of the choral directors at Wheaton Warrenville South, grew up listening to his dad play the guitar and couldn't wait until he could play it, too. "My parents got me a guitar when I was four and I messed around a bit from time to time," said Mr. Miller. "I finally took it seriously in 7th grade and I've been a guitar geek ever since." After the guitar, Mr. Miller would continue on to  learn the bass, trumpet, trombone, and piano, in addition to being a vocalist. His musical career would no know no boundaries as he performed across the country as a guitarist and vocalist. Moving from South Dakota nine years into his career as a music teacher, Mr. Miller teaches men's chorale, chamber singers, concert choir, music keyboard, and even the history of rock and roll here at Wheaton Warrenville South.
In his life as a professional musician, Mr. Miller has had many musical experiences, including performing alongside CBS Face the Nation journalist Bob Schieffer. His most memorable experiences occur warming up before a performance, saying that "Seeing the commitment, excitement and sense of community that music brings in these types of moments is always my favorite." Despite being an experienced performer, Mr. Miller believes that the hardest part about being a musician is "putting yourself out there," saying that, "You take a huge risk each time you perform for people by bearing your soul and expressing yourself. It gets easier every time, but I still get anxious about being in front of people."
Aside from being a talented musician, Mr. Miller is also a talented teacher. In a field of 30,000 nominees, Mr. Miller was one of 217 quarter finalists for the Grammy Music Educator award in 2013. Mr. Miller expressed how he's thankful for "the fact that teaching music allows me to continue doing what I love most. I'm so fortunate to have a job where I can use my knowledge and passion to help young people become better human beings."Mr. Miller also loves his students and hopes that  "everyone's career in music here at South allows them [to] discover all the amazing things that make them who they are."
Mr. Miller became a music teacher in the hopes to help students become better students through their participation in music. He explained that music aids in this goal by "allowing students to tap into their emotions and be expressive while being a vital part of a community." Music has also impacted Mr. Miller a personal scale. "Music made me feel like I belonged. That's so important to all of us. In the most broad sense, music has shaped me by allowing me to witness what it's like to be a part of something much bigger than myself." This is the power of music which has aided Mr. Miller on his journey to create, spread, and teach music. In the end, it could be said that Mr. Miller's four year-old curiosity has lead him on a musical journey which has shaped him as much as it has shaped those around him.