Culturally Connected: Wheaton's Festival of Cultures
Hang on for a minute...we're trying to find some more stories you might like.
On September 15, Downtown Wheaton held the Festival of Cultures. This family-friendly event consisted of booths based on different countries and ethnic music. Celebrating cultural differences helps people be well-rounded and aware of what's going on around the world today.
During the festival, people could visit one of the twelve booths and learn about that culture or country. Children and adults played with artifacts, participated in activities inspired by the culture, and had opportunities to win prizes such as candy or tattoos.
The majority of booths had displayed pictures of the country they're from, said basic phrases in their native languages, and shared customs and traditions that they grew up with in their homeland. Artwork was displayed from Italy and had descriptions about major influences of their country such as Vivaldi and Leonardo Da Vinci. People at the booths themselves were playing little bits of music from their countries while also selling jewelry, paintings, fans, and other tourist souvenirs that reflected their lifestyle. 
College Student, Julie Bawm was working the Bangladeshi booth. She told the audience about her ethnic background while wearing a traditional dress from Tripura and jewelry made from their coins.
"This fair helps us tell our stories; we want people to know about our cultures and where we're from," said Bawm. "…talking about our differences helps people not feel like an outsider"
Gros Pokossi & Band were performing live jazz music in the back. Gros Ngolle Pokossi, the founder of the group, is from Cameroon and composes African-inspired music and rhythm to their original hits. Another group that performed was a South Asian storyteller group which shared one of their cultural children's stories. 
Many guests stayed for the majority of the festival and tried new foods at stationed food trucks while also talking to others about their ethnic backgrounds. Overall the guests who went to Festival were enlightened about different cultures.
"The world is getting closer; the connectivity between different ethnic backgrounds makes the world a better place" said Bawm.
About the Writer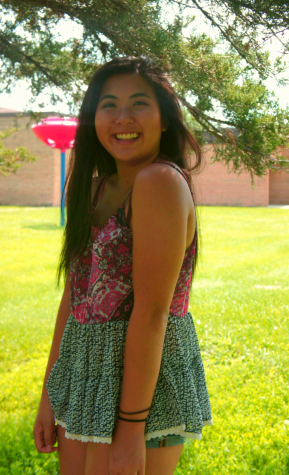 Britney Nguyen, Staff Writer
Britney Nguyen ('20) is a senior and is a first year writer for The Pride. She enjoys watching Netflix, hanging out with friends, and is a travel enthusiast....