Wheaton Warrenville South's Got Talent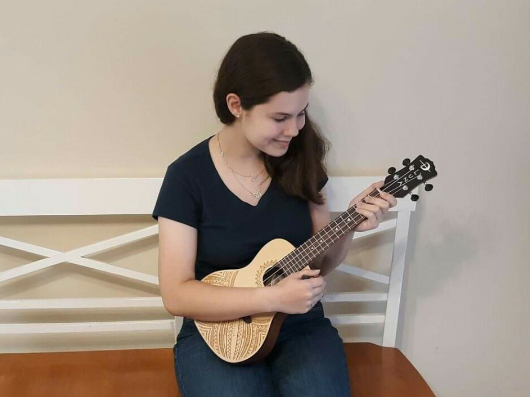 First, she wins at the DuPage County fair. Next, she sings at the state fair. Then, she's a potential candidate for the nationwide televised talent show America's Got Talent. Singer Katie Kostner, an already-accomplished singer of Wheaton Warrenville South, explained how one of the officials running the state fair happened to be a former contestant and talent scout of America's Got Talent, and how he thought she would be a good candidate for the show. Later, when one of her music videos hit over two thousand views on YouTube, an executive producer reached out to her and allowed her to bypass the beginning processes of auditioning. Though she may have bypassed the beginning trials of AGT, her own musical journey was not without its own beginning.
As is true for anyone who has had the privilege of life, Katie's journey began with her birth. Music followed shortly afterwards. "I've been singing since I could talk," is how she explained it, then going on to elaborate on how her parents told her she never really stopped singing as a kid. In Kindergarten, Katie performed in front of a live audience for the first time. Katie also highlights the importance of family on her journey. Aside from the fact that her parents have an incredible music and theater background, Katie says that, considering all influential people and events, "the most influential was my family for sure. They're just always so encouraging to me to follow what I dream of." Sometimes this support manifests in driving three hours away from home for a fifteen minute show, while other times it means holding up a video camera for her music videos. Her music videos, Katie explained, "don't have editing equipment and cameras and those umbrella things or whatever" and that she usually has to do each video in one take, or keep going until she gets it right. From these origins, Katie has gone on to sing at numerous events and gatherings, from national anthems to state competitions.
Though Katie is an active choir and a cappella singer, she usually leans towards solo performances. Though she expressed that "singing up there your friends" is more fun, she explained how, to her, solo performances are "a way to get even more into it and feel like 'this is who I am, this is what I'm doing with my life.'" She also particularly likes emotion in music. Though she believes that choosing a favorite genre of music is an impossible question, she does find particular value in the emotions that music can evoke: "When I'm singing during the performance, my favorite thing to see is people swaying with somebody or dancing with somebody, or even crying… it means that I've shown them what I'm feeling inside and helped them feel it too. I love it when people walk away from one of my performances maybe with a different view on something or a feeling they had a harder time getting to." Katie also expressed, "that's the best of me, when I can touch people."
In both her process through America's Got Talent and her overarching musical journey, Katie still has a long way to go. With ideas of majoring in music in college and becoming a professional performer, she hopes to continue doing what she loves. As she said at the beginning of her Facebook page, "I have a lot to learn, but my voice is strong, as is my passion to succeed [in] doing what I love."
You can support Katie's musical journey by following her social media, as "Kkismusical" on YouTube, Instagram, and Facebook.