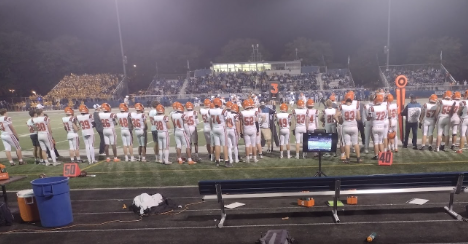 The Tigers' offensive woes continued in their DuKane Conference opener in a lopsided loss. Wheaton Warrenville South lost to the Geneva Vikings 28-6 on Friday, Sept. 8 at Burgess Field.
Geneva was the favorite entering the match and demonstrated why they're a force to be reckoned with. The Vikings started off in unstoppable fashion, putting together a commanding drive in the first quarter. Nate Stempowski's 8-yard touchdown to Talyn Taylor midway through the opening period gave Geneva the 7-0 lead. Then, the Tigers got a golden opportunity to turn the game around. Josh Pratt recovered a fumble at Geneva's 11-yard line, leading to South finishing the quarter one yard away from the end zone. However, the Tigers were unable to capitalize on the situation and ended up settling for a 22-yard field goal from Maison Haas. 
"We're at a point where we need to be able to execute and get touchdowns," said WWS head coach Sean Norris. "I thought that was a big moment. I think we're not quite at a point where we're making plays consistently."
Nevertheless, momentum was shifting in the visitors' favor. After forcing a Geneva punt, South assembled a drive consisting of many flags on the Vikings, including a personal foul and multiple pass interferences. Despite gaining great field position due to penalties, the Tigers were still unable to convert a touchdown. Haas scored another field goal, this time from 37 yards, putting South within one point.
"We need to be more productive, there's no doubt about it," said Norris. "I think it's one or two busts within those situations that we're not consistently executing."
With under two minutes remaining in the first half, it seemed like the crowded Geneva field was in for a close contest. Stempowski thought otherwise. The Vikings quarterback erupted for a 73-yard rushing touchdown before halftime. The atmosphere around the game shifted, energizing the home crowd. Geneva never looked back. The Vikings' first drive of the third quarter resulted in another touchdown, this time a 7-yard pass from Stempowski to Michael Rumono. The Tigers went behind 21-6, the lead seeming insurmountable. A slow fourth quarter resulted in little offensive productivity for South. The Tigers totaled 147 yards in the entire contest. Geneva finished off the match with another touchdown with under a minute remaining. The final score was 28-6 in favor of the Vikings.
"Every game, no matter what the score is, this group is fighting and I think the seniors show great leadership in that regard," said Norris. "Especially some of those DBs (defensive backs), they never gave in. Those are things you can build off of."
South now has a record of 1-2, including 0-1 in conference play. Geneva improved to 3-0 overall. Wheaton Warrenville South's next game is against Glenbard North at Red Grange Field on Friday, Sept. 15.