Basketball: Tigers Fall to Falcons, Coach Kroehnke Honored in Ceremony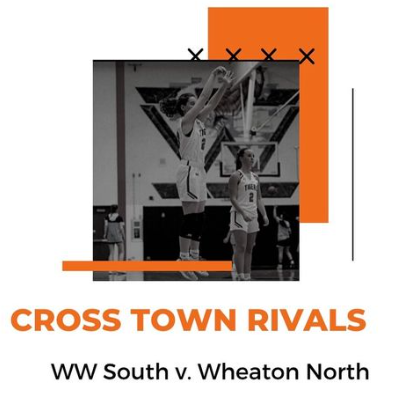 The Wheaton Warrenville South Girls' Varsity basketball team lost to Wheaton North 41-32 on Jan. 28 at the Orange and Black Gym. Longtime WWS head coach Rob Kroehnke was honored in a ceremony after the game; he is retiring after this season.
This edition of the crosstown classic was highly contested from the start, with both teams applying effective defensive pressure. The first quarter ended with the Falcons leading 11-9. South continued to go toe-to-toe with North and went into halftime with an 18-17 lead. Then, the third quarter followed the trend and went back and forth between the two rivals. The Tigers maintained a one-point lead entering the final quarter of the game.
South led 32-29 with four minutes remaining in the fourth quarter, however the Falcons then took control of the match. North went on a 12-0 run to close out the game. The Tigers weren't able to respond in the end. Nevertheless, it was a close contest and South demonstrated great resilience. Ella Crawford and Emily Troia led the way for the Tigers with eight points each, while Zoey Bohmer scored a game-high 26 for North.
"We just got clobbered with that dry spell at the end of the game," coach Kroehnke indicated. "Other than that, I thought the effort was outstanding."
Coach Kroehnke, who has coached the WWS Girls' Varsity basketball team for 22 years, was honored in a ceremony after the game, including a video with messages from current and former Tiger basketball players. He gave a speech to the crowd and was congratulated by various people in attendance on his amazing career.
"It's one of those where it's starting to catch up," coach Kroehnke said. "We're still trying to enjoy every day, it's a long season."