Tiger Basketball to take on Benet Academy in Sectionals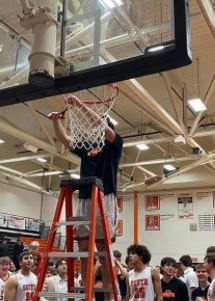 The Tiger basketball program is on a hot streak, boasting an impressive 32-2 record and looking to stay alive by winning this Wednesday, March 2 at 7:00 p.m. sectional playoff game at Bartlett against another very successful and highly competitive program in Benet Academy. All season long this talented tiger group, led by four experienced senior starters, has continued to surpass expectations, currently sitting as the undefeated champions of the conference and the tenth-ranked team in the state of Illinois according to the Chicago Sun-Times, with their only two losses being at the hand of other top ten teams. 
The Tigers undoubtedly look great on paper, being undefeated at home and only letting up an average of 34.7 points a game. However, the real point of intrigue surrounding this team comes from their less flashy, more methodical, and cohesive style of play. A unique form of swarming ball press defense coupled with patience and chemistry on offense has paved the way for the Tigers' success, putting South on the map this season as one of the premier basketball teams in the state. 
"Our hard work and attention to detail have been really important to us so far," said senior starter Rourke Robinson when asked about the keys to their success. "We've been playing well as a team and emphasize improving little by little every day." When inquired about the upcoming clash with Benet Academy, Robinson acknowledged the challenge as well as the legitimacy of his opponent. "They are a tough team," said Robinson. "Disciplined, well coached, and determined to win. It should be a good game."  
Benet Academy, currently sitting at 22-7, is indeed no pushover. Ranked within the 20 best teams in Illinois, fans of either team can expect a close bout between two of the best teams the western suburbs have to offer. With playoffs fully underway, both teams will be playing hard to fight another day and crown themselves as sectional champs.